After our tour of Hohensalzburg Castle and leaving the Funicular Railway entrance, we walked down the hill to nearby St. Peter's Cemetery (Petersfriedhof) which, together with the burial site at Nonnberg Abbey , is the oldest cemetery in Salzburg and one of its most popular tourist attractions.   My original intention for visiting was to see for myself where the Von Trapps hid from the Nazis in "The Sound of Music" as some overenthusiastic tour guides would tell tourists visiting the place. I didn't find it. Only later did I find out that the actual scene was just a studio set filmed in Hollywood, though its design is clearly based on St. Peter's Cemetery.
Still, the beautiful flower-filled cemetery of adjacent St. Peter's Abbey (Stift St. Peter), sheltered by the Monchsberg, was still worth a visit for its rich history and carefully and lovingly tended  graves, many with flowering plants land small trees (it looks more like a garden than a cemetery).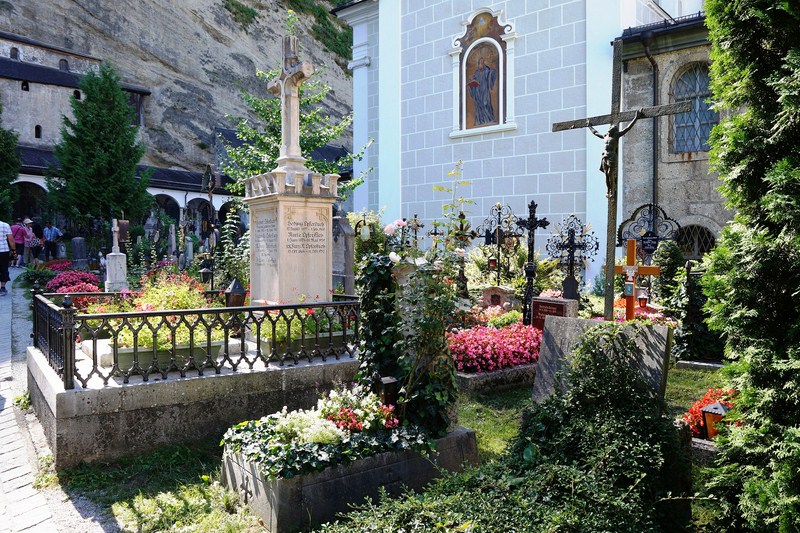 It was probably laid out during the foundation of the abbey in 696 AD by St. Rupert of Salzburg. This burial ground was first mentioned in an 1139 deed  issued by Alcuin of York, an English scholar attendant, during the rule of Archbishop Conrad I.
Several tombs are located in arcades, with elegant wrought iron fences and lovely and ornate iron scrollwork crosses and grave markers, built at the foot of the Festungsberg Hill.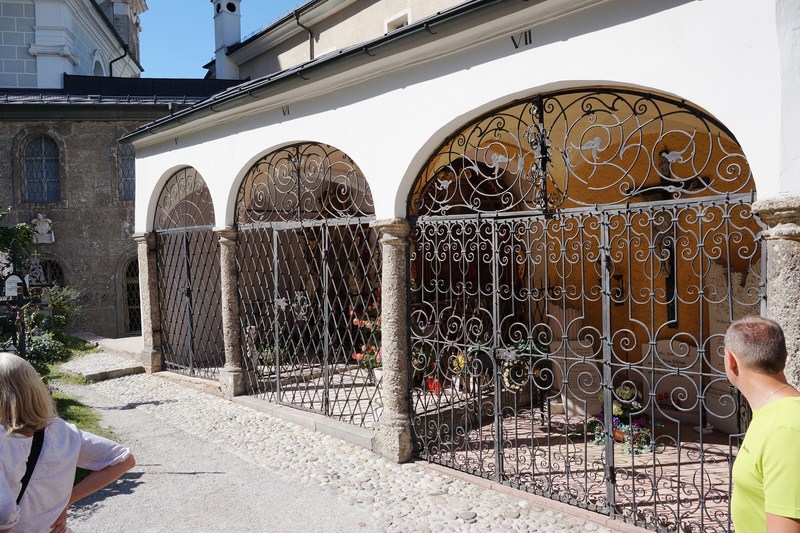 The oldest preserved headstone is from 1288 AD. The cemetery is centered around the Late Gothic-style, stone block St Margaret's Chapel (Margarethenkapelle), built in 1491, and the Romanesque-style Chapel of the Cross, dedicated about 1170 and refurbished as a mausoleum in 1614/15, according to plans by Santino Solari. The former contains some precious artwork inside and marble panels emblazoned on the wall.
The serene and unique cemetery grounds, probably the most peaceful stop in all of Salzburg, are also known for its underground 'catacombs,' a combination of natural and hand-excavated caves embedded in the limestone cliffs of Monchsberg.  Carved out of the conglomerate rocks of Festungsberg Hill, above the cemetery, they probably date back even further to 215 AD, from the Early Christian days of Severinus of Noricum during the Migration Period, serving as an Early Christian place of assembly and hermitage.  Up until 1454, only priests and monks were buried here.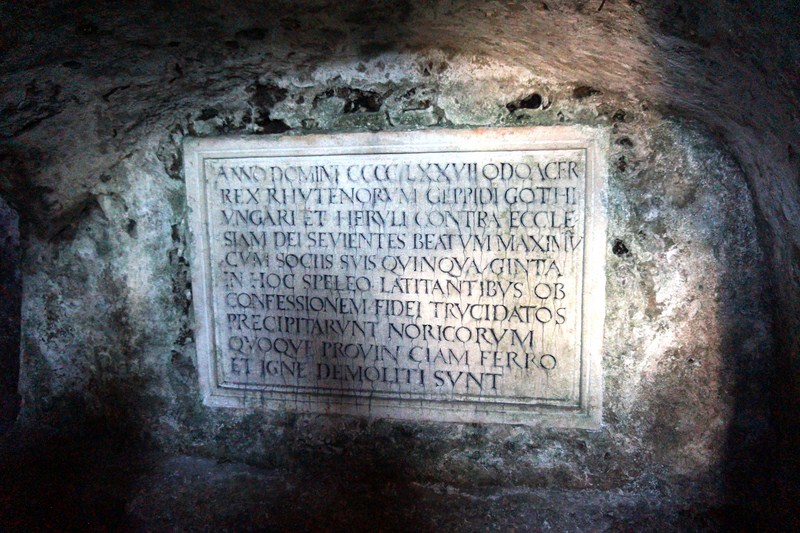 The catacombs include two chapels dedicated to St. Gertrude (Gertraudenkapelle) and Maximus (Maximuskapelle), a Christian martyr, consecrated in 1178 under the Salzburg Archbishop Conrad of Wittelsbach and dedicated to the assassinated Archbishop Thomas Becket of Canterbury.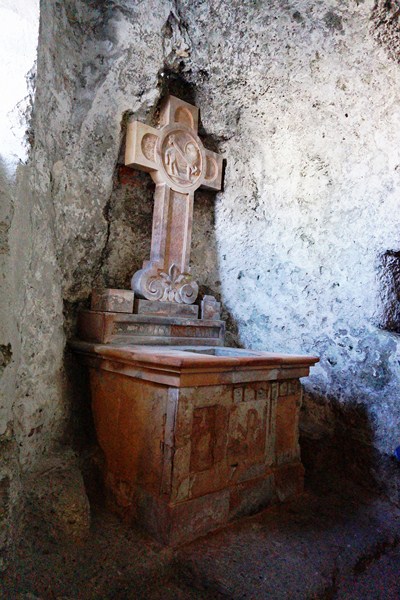 The cemetery was closed in 1878, slowly decaying until 1930 when the monks of St. Peter's successfully lobbied for the admission of new burials.  Unlike most cemeteries around the world, you do not buy the plots here.  Instead, every 10 years, relatives of the dead must pay rent for the plot and must also be the caretakers.  If your family doesn't pay your rent, they toss your body out.
Many members of Salzburg's old blue-blooded patrician families are buried here, along with many other notable figures.  Architect Santino Solari, (1646), who designed Salzburg Cathedral, Hellbrunn Palace and the trick fountains, is buried in Crypt XXXI while Salzburg mayor Sigmund Haffner (1772), a patron of Wolfgang Amadeus Mozart who composed a symphony and named a serenade after him, is buried in Crypt XXXIX. Maria Anna Mozart (Nannerl, 1829), elder sister of Wolfgang Amadeus Mozart and an exceptionally gifted musician herself, is buried in Crypt LIV, by the catacombs, together with the torso (his head is stored in an urn in St. Peter's Church) of composer Michael Haydn (1806), the younger brother of Joseph Haydn.
Other prominent people buried here include architects Clemens Holzmeister (1983), Johann Georg von Hagenauer (1835, younger brother of Wolfgang Hagenauer) and Wolfgang Hagenauer (1801); composers Heinrich Ignaz Franz Biber (1704);  Salzburg mayors Johann Christian Paurnfeind (1768), Richard Hildmann (1952) and Heinrich Ritter von Mertens (1872); Mozart librettist Ignatz Anton von Weiser, (1785); conductor Bernhard Paumgartner (1971); opera singer Richard Mayr (1935); painter Georg Pezolt (1878); historian Franz Martin (1950); artist Carl Mayr (1942, elder brother of Richard Mayr);  poet Otto Pflanzl (1943); actor Georg Schuchter (2001); politician Hans Lechner (1994); noblemen Hans Stefan, Count von Heistler (2010), Viktor Schmidt, Count von Heistler (2011), Alfred Schmidt, Count von Heistler (2011) and Wulfric Brian von Heistler (2011); and US Army Major General Harry J. Collins (1963).
We also climbed a steep set of stone-carved stairs to view several rooms with altars, faded murals and inscriptions of the fascinating catacombs. Here, we had amazing views of the city. On our way out, we passed a water wheel which runs in the cemetery.  At one time, it supplied power for industries run by the friars.
St. Peter's Cemetery: Sankt-Peter-Bezirk 1, 5020 Salzburg, Austria. Tel: +43 662 844576. Open daily,  6:30 AM -7 PM (April-September) and 6:30 AM – 6 PM. (October-March). Admission to cemetery is free; Catacombs:  1€ (adults) and 0.60€ (children).