After our visit to the Independence Seaport Museum and the museum ships USS Olympia and USS Becuna, Jandy and I, our curiosity piqued, hopped over to the adjacent Moshulu which was also docked at Penn's Landing.  We discovered it was a floating restaurant and, as it wasn't officially opened yet (it opens at 5 PM), asked permission if we could explore this  four-masted steel barque, a first for both of us.
Check out "Independence Seaport Museum," "Independence Seaport Museum – USS Olympia" and "Independence Seaport Museum – USS Becuna"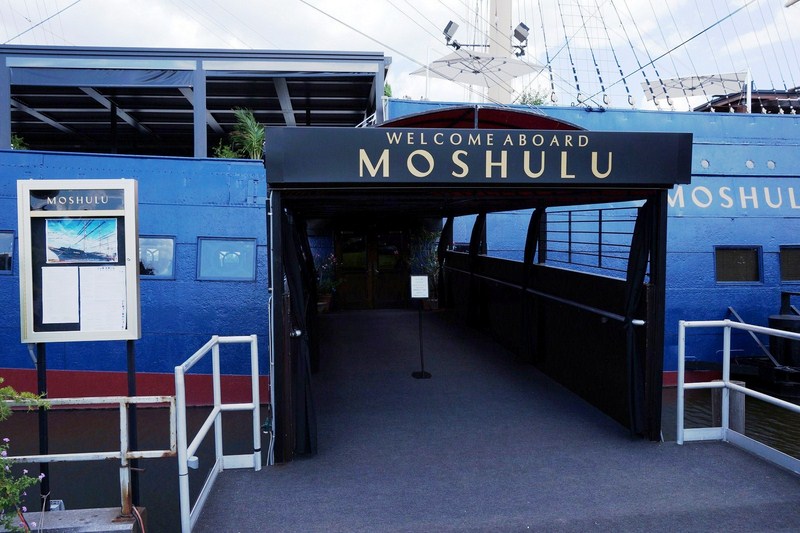 We weren't here to try out its food but the Moshulu's dining rooms and outdoor decks do take full advantage of the unparalleled views of the city skyline and waterfront.
Here are some interesting trivia regarding this ship:
The Moshulu is the largest remaining original windjammer in the world. Whilst windjammers exist and sail the seas to this day, the last windjammer carrying cargo was the Peruvian Omega (ex Drumcliff) which was in use until her loss in 1958.
She was built by William Hamilton and Company, on the River Clyde in Scotland and, along with her sister ship Hans, was one of the last four-masted steel barques to be built on the river (Archibald Russell was launched in 1905).
Moshulu is the world's oldest and largest square rigged sailing vessel still afloat.
She is the only restaurant venue on a tall ship in the world.
The Moshulu was originally named Kurtafter Dr. Kurt Siemers, director-general and president of H. J. Siemers & Co, a Hamburg shipping company.
She was built at a cost of £36,000.
The Moshulu was built for G. H. J. Siemers & Co. and originally used in the nitrate trade.
Moshulu was made famous by the books of famous travel writer  Eric Newby who, at the age of 18, was apprenticed aboard the Moshulu, joining the ship in Belfast in 1938. The journey was documented in Newby's books The Last Grain Race (1956, refers to the last grain race before the outbreak of World War II) and Learning the Ropes: An Apprentice in the Last of the Windjammers (1999, contains more than 150 of the photographs Newby took while aboard).
Moshulu's route to Australia took her around Cape Horn a remarkable 54 times without incident.
On June 10, 1939, Moshulu wins the very last race of square-rigged sailing ships between Australia and Europe while carrying 59,000 bags of grain, weighing 4875 tons with a record speed of 16 knots in 91 days (15,000 miles) from Australia to Queenstown Cobh Ireland, a faster passage than that of any of the other sailing ships making similar passages that year.
Its restaurant has gained recognition as an award winning, AAA 4 Diamond rated Restaurant, Bar and Deck.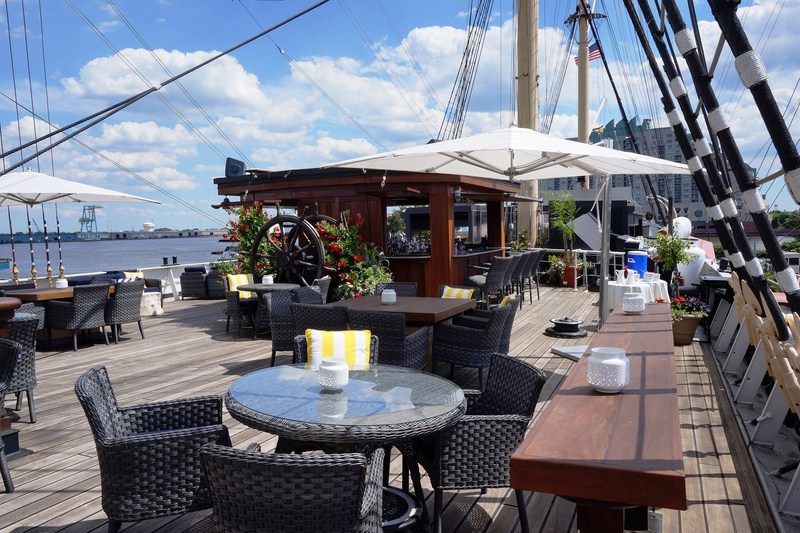 The Moshulu had the following general characteristics:
Length: 121 m. (396 ft., overall), 109 m. (359 ft., on deck), 102.2 m. (33.5.3 ft., between perpendiculars)
Beam: 14.3 m. (46.9 ft.)
Draft: 7.4 m. (24.3 ft.) at 5,300 tons
Depth: 8.5 m. (28 ft., depth molded)
Depth of Hold: 8.1 m. (26.6 ft.)
Displacement: 7,000 ts (1,700 ts ship + 5,300 ts cargo)
Sail Plan: 180 m²; 34 sails: 18 square sails, 3 spankers, 13 staysails
Depths: 2 continuous steel decks, poop, midship bridge and forecastle decks
Installed Power: no auxiliary propulsion; donkey enginefor sail winches, steam rudder
Propulsion: wind
Highest Recorded Speed: 17 knots(31 kms./hr.)
Complement: 35 crew (maximum)
Crew: 33 (captain, 1st & 2nd mate, 1 steward, 29 able seamen)[
Boats & landing craft carried: 4 lifeboats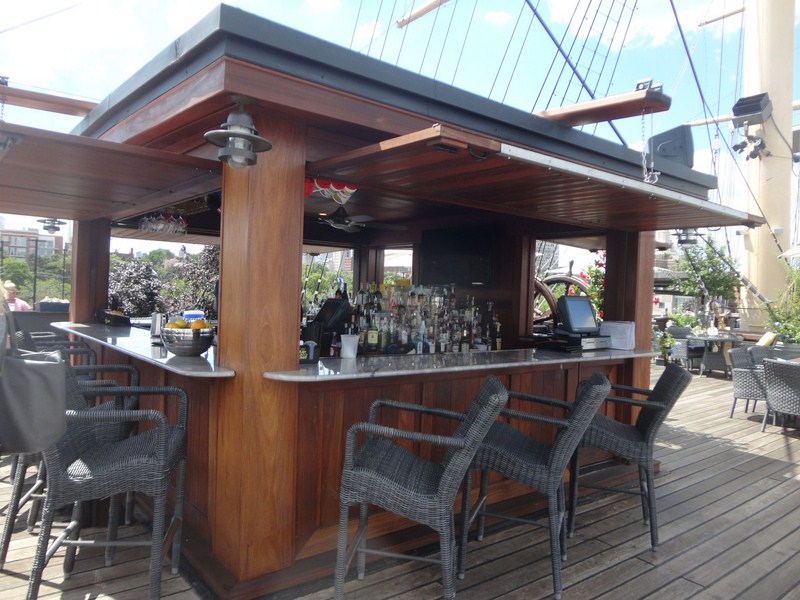 Here's a timeline of the ship's history:
On April 18, 1904, the Kurt was launched with Captain Christian Schütt as her first master.
Between 1904 and 1914, under German ownership, Kurt shipped coal from Wales to South America, nitrate from Chile to Germany, coal from Australia to Chile, and coke and patent fuel from Germany to Santa Rosalía, Mexico.
In 1908, under the command of Captain Wolfgang H. G. Tönissen, she made a fast voyage from Newcastle, Australia, to Valparaíso with a cargo of coal in 31 days.
In 1914, upon the outbreak of World War I, Kurt was sailed to Oregon, under the command of Captain Tönissen, then laid up in Astoria.
In 1917, when the United States entered the war, she was seized as prize booty, kept in commission and  temporarily renamed the Dreadnought ("one who fears nothing") but, as there was already a sailing ship of that name registered in the US, she was renamed the Moshulu (which had the same meaning in the Seneca language) by Edith Wilson, the First Lady of the United States and wife of President Woodrow Wilson (who was of Indian extraction herself).
Between 1917 and 1920, Moshulu was owned by the U.S. Shipping Board and carried wool and chrome between North America, Manila and Australia.
From 1920 to 1922, it was owned by the Moshulu Navigation Co. (Charles Nelson & Co., a lumber firm) of San Francisco
In 1922, Moshulu was sold to James Tyson of San Francisco and, that same year, was repurchased by Charles Nelson.
From 1920 to 1928, the big four-masted barque ran in the timber trade along the U.S. west coast to Australia and South Africa.
In 1928, after her last timber run to Melbourne and Geelong, Australia, Moshulu was laid up in Los Angeles.
Later on, she was kept in places in or near Seattle, Washington: Lake Union, Winslow on (Puget Sound), and Esquimaltin British Columbia, Canada 190 kms. (100 nautical miles) northwest of Seattle.
In 1935, the Moshulu was bought for $12,000 by Gustaf Erikson of Finland, a successful ship owner of 25 vessels, 11 four-masted barque windjammers, who had found profits in bringing grain from Australia.
On March 14, 1935, when the contract was signed, Captain Gunnar Boman took over the ship and sailed Moshulu to Port Victoria. Gustaf Erikson had her operate in the grain trade from Australia to Europe. During the period of Erikson ownership the working language of the ship was Swedish, even though it sailed under the Finnish flag. The ship's home port at the time, Mariehamn, is in the Swedish-speaking Åland Islandsof Finland.
At the end of 1938, the ship left Belfast, under the command of Captain Mikael Sjögren, sailing to Port Lincoln, in South Australia, with a load of ballast stone, arriving there in 82 days, a good passage for a windjammer. In Port Victoria, Moshulu took 4,875 tons of bagged grain on board and began her return voyage to Ireland. She had a crew of 33, which included two Americans, J. Ferrell Colton of Molokai, Hawaii (publisher of "Windjammer Significant") and John W. Albright of Long Beach, California (who would become a square rigged ship captain himself).
On June 10, 1939, Moshulu arrives in Queenstown (Cobh, Ireland) winning the very last race of square-rigged sailing ships between Australia and Europe.
In November 1942, when she returned to Kristiansand, Norway, again under the command of Captain Mikael Sjögren and with a cargo of wheat from Buenos Aires, the ship was seized by the Germans and, step-by-step, stripped of her mast and spars.
in 1947, after breaking her mooring and capsizing in a storm close to shore at a beach in Østervik near Narvik,  she was demasted by a salvaging company
On July 1948, she was re-erected, stabilized and towed to Bergen. The ship's hull was sold to Trygve Sommerfeldt of Oslo.
A few months later, the ship was transferred to Sweden
From 1948 to 1952, she was used as a grain store in Stockholm.
She was then sold to the German ship owner Heinz Schliewen, who wanted to put her back to use under the name Oplagas, a merchant marine training ship carrying cargo. Schliewen already used the four-masted steel barques Pamir and Passat (both former Flying P-Liners) for that purpose, but before Moshulu was re-rigged, Schliewen went into bankruptcy.
In 1953 Moshulu was sold to the Swedish Farmers' State Union (Svenska Lantmännens Riksförbund) of Stockholm
Beginning on November 16, 1953, she was used as a floating warehouse.
In 1961, the FinnishState Granary bought the ship for 3,200 tons of Russian rye.  She was towed to a small and picturesque bay in Naantali, a town near Turku, and she continued to be used as a grain warehouse.
In 1970, the ship was bought by David Tallichet of the American Specialty Restaurants Corporation, who rigged her out in Scheveningen, Netherlands with machine (not hand) welded masts, yards, standing rigging and lines, of lighter materials. Other sources have it that The Walt Disney Company bought the ship but soon transferred it to the American "Specialty Restaurants Corporation."
In 1974, she was towed to South Street Seaport, New York City.
In 1975, the Moshulu was opened as a restaurant
In 1989, the she closed after being damaged by a four-alarm fire.
In 1994, the Moshulu was purchased by HMS Ventures, Inc. and, under Mrs. Dodo Hamilton of the Campbell's Soup family, was painstakingly restored in Camden to her original glory
In 1996, it was docked at Pier 34 on Philadelphia's waterfront and opened as a restaurant on the Delaware River.
In 2002, the Moshulu was relocated to its current location under restaurateur Martin Grims.
On May 2003, its current owners, SCC Restaurants LLC, reopened the restaurant.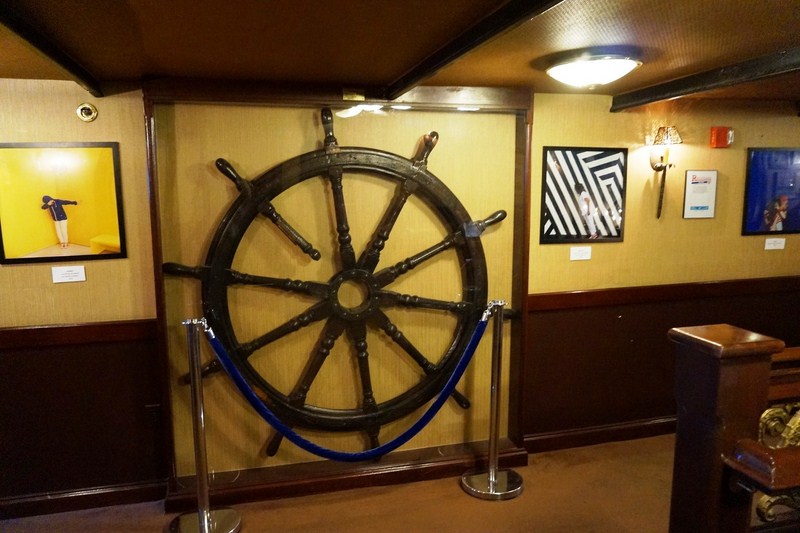 The Moshulu was featured in the following movies: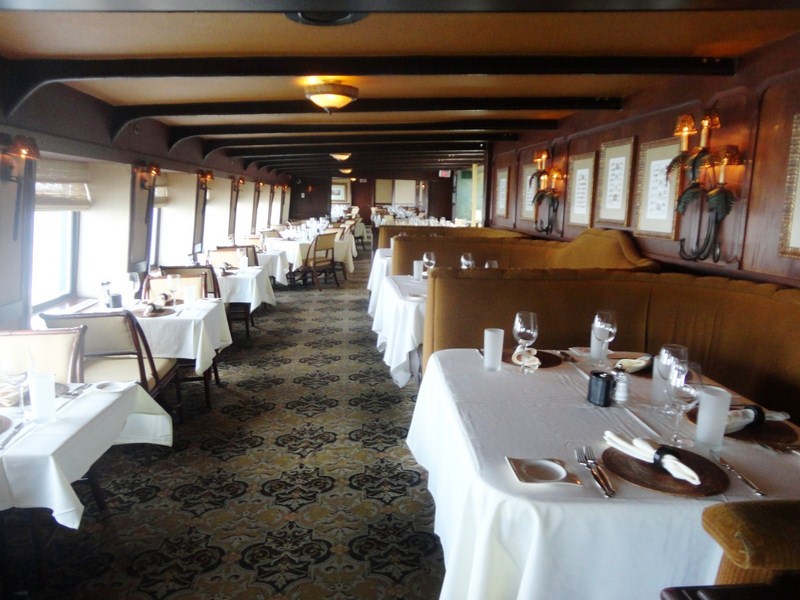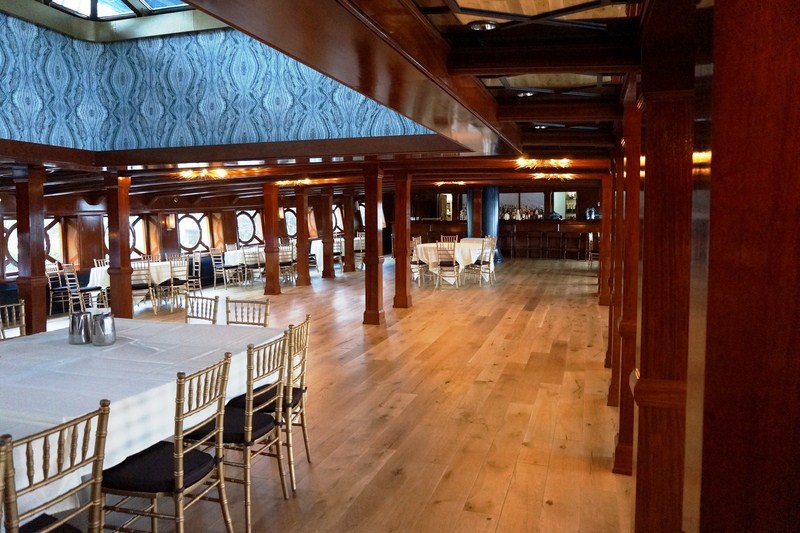 Moshulu: Penn's Landing, 401 S. Columbus Blvd., Philadelphia, Pennsylvania 19106 (Click here for map). Tel: 215.923.2500. Fax: 215.829.1604.  E-mail: info@moshulu.com.  Website: www.moshulu.com. Open Mondays– Thursdays, 5 to 9 PM; Fridays & Saturdays, 5 to 10PM; Sundays 10AM to 2:30PM and 5 to 9PM.