Part 7 of the Bluewater Maribago Beach Resort & Spa-sponsored City Tour
Carcar City is noted for its striking examples of preserved colonial architecture, both from the Spanish and American eras. The most notable structure is the Church of St. Catherine of Alexandria. Around 1622, the town's first convent and church was burned when Muslims sacked the town.
The present masonry church, probably the second or third church, was built on a hill for greater security. It was started by Fr. Antonio Manglano in 1860, continued by Fr. Gabriel Gonzalez in 1865 and completed (including the interior painting) by Fr. Manuel Fernandez Rubio in 1875. Its roof was blown away during the November 25, 1876, typhoon.
Its lovely and massive Graeco-Tuscan façade, with its strong Muslim influence, has a double recessed arched main entrance (similar to an iwan of a Middle Eastern mosque), a blind wheel rose window below the upper recessed arch (above it is a carved Augustinian symbol), spandrels with geometric flora and a Baroque pediment on a high entablature, which crowns the middle segment.
The lower story is flanked by a one-story structure corresponding to the aisles flanking the 68-m. long, 22-m. wide and 12-m. high-main nave. Neo-Classical altars, a coffered ceiling and carved cherub heads located along the arcade separating the nave from the aisle embellish the church's interior.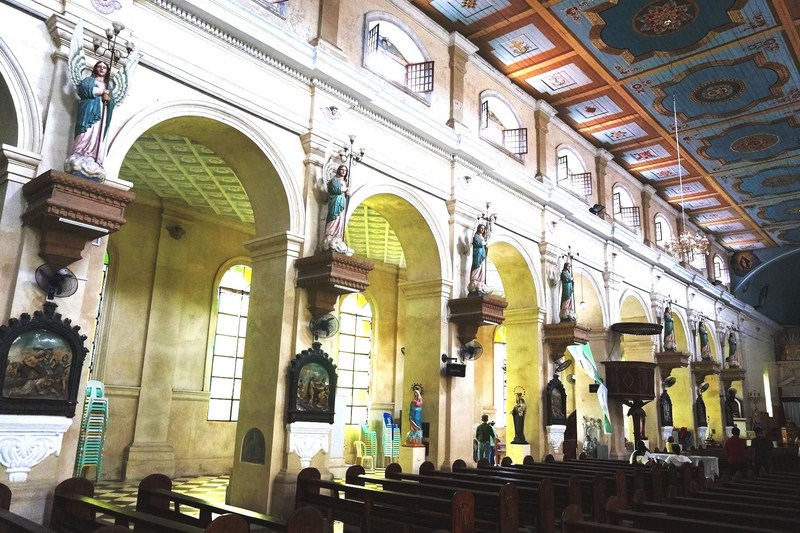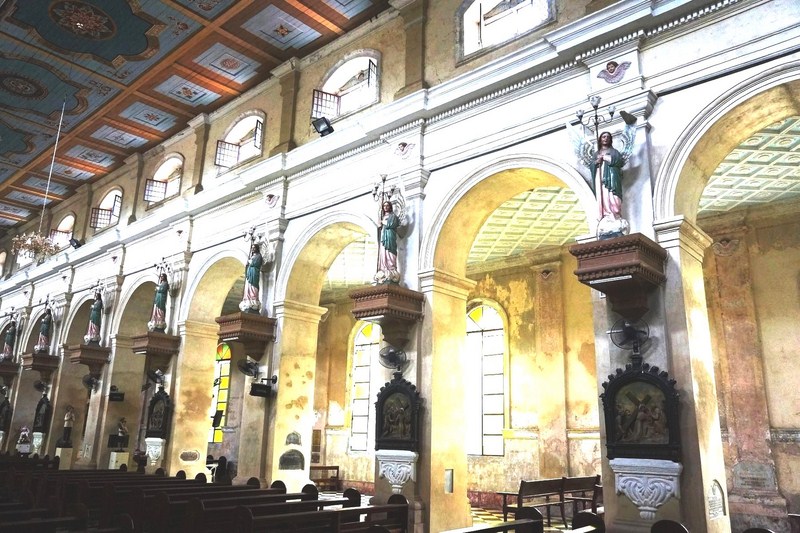 The church patio, surrounded by a low fence of coral stone and wrought iron, has statues of the 12 Apostles, all painted white.  The statue of Judas Iscariot, standing all alone on a pedestal in front of the convent, used to be painted black but is now in white.
The twin Muslim-like bell towers have solid geometric pylons which act as buttresses, and have no openings except at the third storey where ogee arches are used for the bells. This level ends up in onion-shaped domes reminiscent of minarets. One of its bells bears the date 1810, suggesting that a church was already in place by the early 19th century.
Fr. Manuel Fernandez Rubio also built the masonry and wood convent, established on May 23, 1559, under the advocacy of the Visitation of the Virgin. An independent structure separated from the church by a road, it measures 33 m. in front and 22 m. at the side.  The convent sank during the November 25, 1876, typhoon.
Church of St. Catherine of Alexandria: Tel: (032) 257-3272. Feast of St. Catherine of Alexandra: November 25.
How to Get There: Carcar City is located 42 kms. (a 1-hour drive) south of Cebu City.
Bluewater Maribago Beach Resort & Spa: Buyong, Maribago, Lapu-Lapu City, 6015, Cebu. Tel: (032) 492-0100. Fax: (032) 492-1808.  E-mail: maribago@bluewater.com.ph.   Website: www.bluewatermaribago.com.ph.  Metro Manila sales office: Rm. 704, Cityland Herrera Tower, 98 Herrera cor. Valero Sts., Salcedo Village, Makati City, Metro Manila. Tel: (02) 887-1348 and (02) 817-5751. Fax: (02) 893-5391.