Part 8 of the Bluewater Maribago Beach Resort & Spa-sponsored City Tour
The majestic and sacred Monastery of the Holy Eucharist, popularly known as the "Simala Shrine" or "Simala Church,"is one of Sibonga's most visited locations.  From a distance, the shrine looks like a castle.  It is technically not in Brgy. Simala, but the road leading to it traverses through Brgy. Simala.
Built by the Marian Monks (fondly called "Mga Monghe ni Maria")  from Pampanga in 1998, the place was formerly a small farm gradually developed by the monks who planted vegetables and trees as well as raised animals.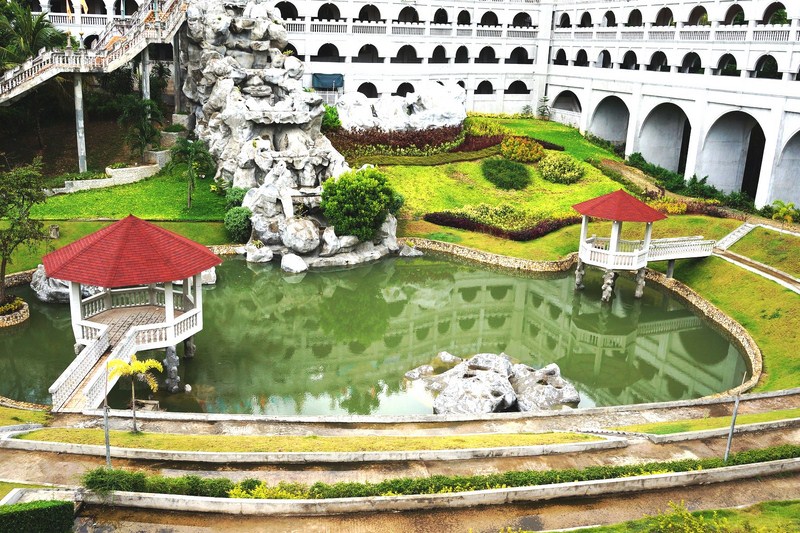 Due to the presence of the Marian Monks who, after some time, built houses and a chapel, it was later called Marian Hills. The church became famous due to miracles that happened in the area made through the intercession of the Blessed Virgin Mary.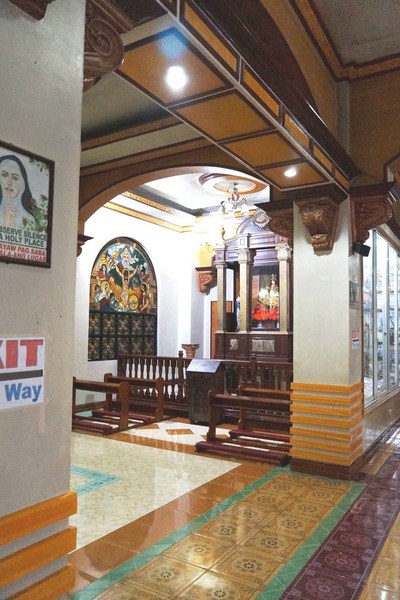 After the community was hit by an epidemic, the monks reportedly prayed for an intercession by the Blessed Virgin Mary, asking her to save the children suffering from the epidemic.
A painting at the shrine depicts a religious old Lindogon native named Ireneo Villamor (fondly called Inkong Niyong).   Around sixty years ago, he predicted that the Lindogon hills will become balaan (blessed) in the future.
He also said that a lady in white will become the center of all people and her devout servants will have to go through persecution and suffering. The site has been associated with various miracles – one of which is the shedding tears of blood of a statue of the Virgin Mary housed in the site.
Many devotees make the trip to the Simala Shrine to pray to the Blessed Virgin for healing of physical and spiritual illness.  Many of them have their own stories of miracles in their lives, all documented at the church and stored in cabinets close to the exit of the shrine.
Within the spacious and green environment is a huge statue of Virgin Mary (or the "Mama Maria sa Lindogon" or Birhen sa Himala), sculptures or statues of various saints, and various images and statues of the Virgin Mary from various cultural backgrounds such as the Virgin of Guadalupe or the Virgin wearing a kimono.
There's also a replica of the Nazareth Well where people throw in coins while silently wishing for something. There are also cottages there, free and available for families or group of friends who brought their packed lunches with them. The whole shrine is still in the process of improving its structures.
When visiting the shrine to offer a petition or prayer, there are candles for sale (more or less Php35.00). Each color has a corresponding purpose. Here is a guide:
White– Purity (enlightenment, guidance, right path, etc.)
Yellow– Peace (courage, strength, hope, etc.)
Violet– Achievements (plans in life, journey, struggles, endeavors, voyage, etc.)
Red– Love (unity, family, friendship, engagement, etc.)
Pink– Thanksgiving, Happiness, Joy (physical, spiritual)
Orange- Reconciliation (sweetheart, husband, wife, family, enemy, etc.)
Gray– Deliverance (bad ways, things, spirits, etc.)
Green– Prosperity and Success (financial, business, study, exam, etc.)
Gold– Healing (good health, spiritual, recovery, family tree, etc.)
Cream– Conversion and Faith (household, children, couples, etc.)
Brown– Vocation (marriage bond, single life, God's servant, etc.)
Blue– Perseverance (employment, career, promotions, assignment, etc.)
Black– Souls (pardon, forgiveness, etc.)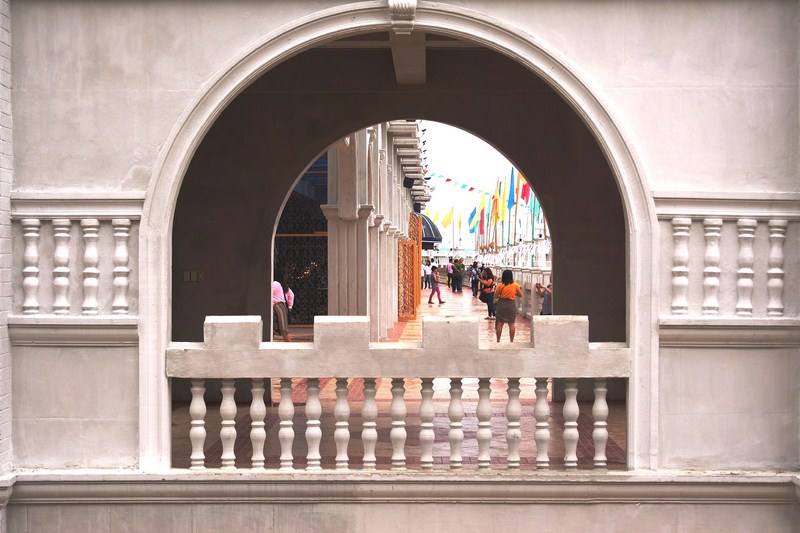 The following are prohibited within the shrine:
Taking pictures with flash
Wearing revealing clothes such as miniskirts, short shorts, see-through blouses and pants, tube and crop tops (Note: for those wearing such, there are shawls or cloaks for rent at Php20.00 each).
Smoking and alcoholic drinks
Shouting and making loud noise
Wearing of footwear inside the prayer room
Monastery of the Holy Eucharist: Marian Hills, Brgy. Lindogon, Sibonga, Cebu. Open daily, 8 AM – 8 PM. The Simala Shrine celebrates mass every day – Mondays to Fridays at 12 noon, Saturdays at 10:30 AM, and Sundays at 12 noon and 3:30 PM.  Masses are also held every 13th day of the month at 10:30 AM and 3:30 PM.
How to Get There: To get to the Simala Shrine, take a Ceres bus or a more expensive van at the South Bus Terminal (near Elizabeth Mall) that passes through Sibonga (a 2.5-hour trip). Get off at the motorcycle terminal at Lindogon and, from there, take a 10-15-min./5-km.  tricycle or motorcycle (habal-habal) ride going up to the shrine.
Bluewater Maribago Beach Resort & Spa: Buyong, Maribago, Lapu-Lapu City, 6015, Cebu. Tel: (032) 492-0100. Fax: (032) 492-1808.  E-mail: maribago@bluewater.com.ph.   Website: www.bluewatermaribago.com.ph.  Metro Manila sales office: Rm. 704, Cityland Herrera Tower, 98 Herrera cor. Valero Sts., Salcedo Village, Makati City, Metro Manila. Tel: (02) 887-1348 and (02) 817-5751. Fax: (02) 893-5391.