Part of the Panglao Bluewater  Resort-sponsored Tagbilaran City Tour
Our first stop in our Tagbilaran City tour was the majestic, two-storey Balili House, built sometime in 1934 by the then bachelor Mr. Eladio Balili, a history teacher of  Bohol National High School and businessman  (dried fish, lumber, furniture, transport and construction),  who later married Ms. Pancrasia "Caring" Castro.
Barely visible from the street, its main facade is crowned by a wide overhanging gable roof with roof eaves adorned with Art Nouveau carvings.
We passed through a park-like garden before climbing a sweeping grand concrete stairway leading to the artistically designed, second floor porch with its rounded corners, rough-hewn wooden posts, topped by semicircular arches with embroidery-like carvings on the fringes.
The delicate calado wood carvings (in harp design), lattice screens, and barandillas (framed by carved wooden harps and friezes) underneath the windows add grace and playfulness to the house. The two sets of sliding capiz windows, with air vents above it, flank the porch on both sides.
Elegant wooden canopies, with tooth-like fringes, protect the windows. The house has a square floor plan, unusual for Bohol houses.
Upon entry, we were all welcomed by architect Gloria Balili-Katz, the youngest (of seven children) of Eladio and Pancrasia who gave us a tour of the well-preserved, incredibly beautiful mansion. According to her, the house served as a venue of grand social functions of Tagbilaran which were attended by prominent political and social personalities from both the local and national level.
One such grand gathering was the March 9, 1946 meeting of then Pres. Manuel A. Roxas with senator (and later president) Elpidio R. Quirino, former governor Perfecto Balili (the brother of Eladio) and other important local political personalities. In March of 1942, during World War II, the Balili Mansion was requisitioned for use by high ranking Japanese military officers.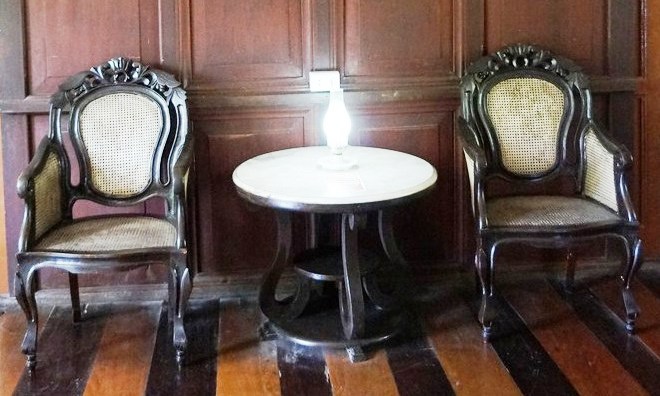 In the 1950s, after building a new larger house on the huge compound, Eladio finally moved out. The descendants of Eladio also preferred to build their own homes on the large family compound. The house was rented out but its last tenants moved out in 1998. For various reasons (accessibility, water supply, fear of ghosts, etc.), it was vacant for more than a decade.
Today, this well-maintained, virtually unchanged "sleeping beauty" has reawakened after it was converted into The Oasis lodging house (PhP450/pax for a fan-cooled room and PhP750/pax for an airconitioned room).  Meals are available upon request.
Inside are wooden walls (above which are calado woodwork) and ceiling, old photographs (including the photo of the Roxas-Quirino meeting) and floor of wide hardwood planks. Antique furnishings include the wooden chair (where Roxas sat on) with an agila (eagle) at its crest, an office desk, a butaka (a chair with long arm rests) and an old clock.
Balili Heritage House: 6 J. Borja St., Tagbilaran City. Tel: (038) 411-2511.  Mobile number: (0918) 299-1865. Website: www.oasislodgeHeritagehouse.com.
How to Get There: the house is located near the old Holy Spirit School, in front of Mang Inasal.
Bohol Tourism Office: Governor's Mansion Compound, C.P.G. Ave. North, Tagbilaran City, 6300 Bohol.  Tel: +63 38 501-9186.  E-mail: inquire@boholtourismph.com.
Panglao Bluewater Resort: Bluewater Rd., Sitio Daurong, Brgy. Danao, Panglao, 6340 Bohol.  Tel: (038) 416-0702 and (038) 416-0695 to 96. Fax: (038) 416-0697.  Email: panglao@bluewater.com.ph. Website: www.bluewaterpanglao.com.ph.  Manila sales office: Rm. 704, Cityland Herrera Tower, Rufino cor. Valera Sts., Salcedo Village, 1227 Makati City, Metro Manila.  Tel: (632) 817-5751 and (632) 887-1348.  Fax: (632) 893-5391.