Part of the Panglao Bluewater Resort-sponsored CountrysideTour
One of the churches severely damaged during the October 15, 2013 earthquake was the Church of St. Nicholas of Tolentine in Dimiao.  The ceiling of the church received heavy cracks, the walls of both the left and right wings of the transept cracked open, and large portions of the outer stone finishes in various areas of the church exterior fell down.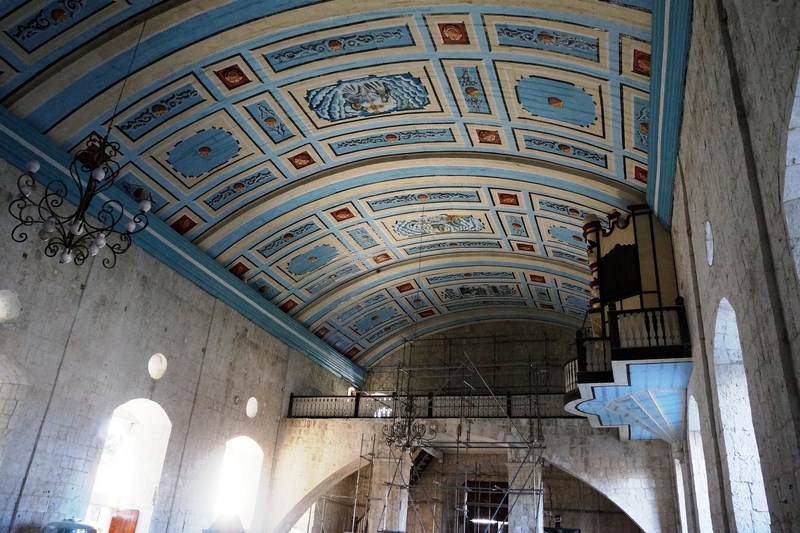 As of early 2014, the structure, though still standing, was deemed unsafe to enter. Only priests and church convent authorities were allowed to enter the church. As of this writing, the church is being repaired, with scaffolding installed throughout the exterior and interior. We were allowed to enter the church.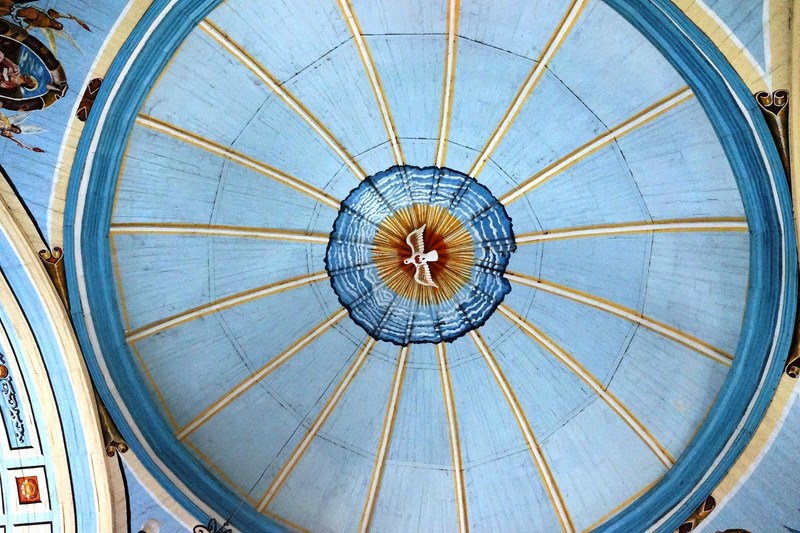 The town's present magnificent church, one of the oldest in the province, was built from 1800 to 1815 by Fr. Enrique de Santo Tomas de Villanueva with cut stone blocks. On  July 30, 2011, the church complex, including the Ermita Ruins, were declared as a National Cultural Treasure by the National Museum due to its outstanding historical, aesthetic, social and architectural significance.
Check out "Ermita Ruins"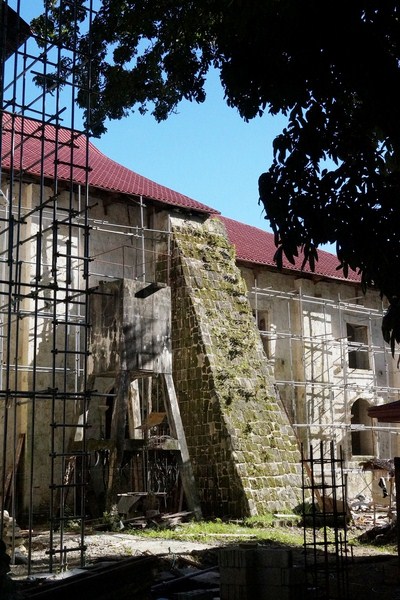 The church has a cruciform plan with an atypically short transept. The church is the only other Spanish-era church, aside from Loon,  that was not originally built with a portico
Its powerful Early Renaissance façade, with subtle hints of baroque and Muslim influence, is divided into segments by square pilasters ornamented with a shallow octagonal relief of fine floral carvings arranged as vertical bands.  On the lower level is a semicircular main entrance (above which is the Spanish coat-of-arms) flanked by blind windows.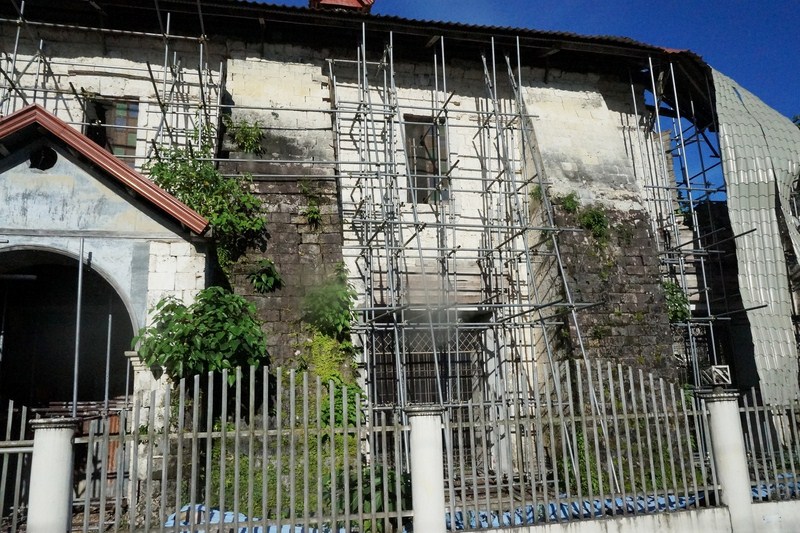 On the second level is a statued niche of San Nicolas Tolentino topped by a small pediment and flanked by semicircular windows.
On the church's flanks are two minaret-like octagonal bell towers with seven bells, the earliest dating from 1841.  The tower on the right is accessible by a steep stone staircase followed by a wooden one.
Inside are three Neo-Classical retablos, a pulpit with wrought iron banister and a spacious sacristy and choir loft.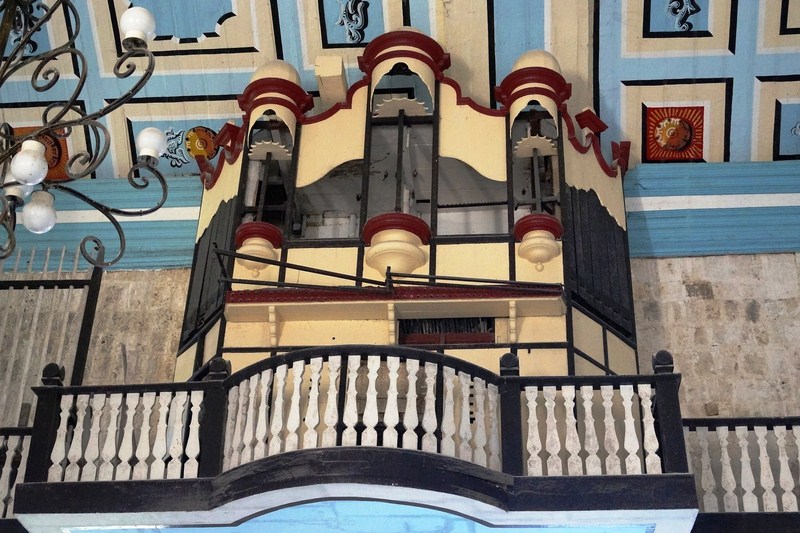 The convent, now a school behind the church,  was constructed by Fr. Manuel Carasusan (1842 to 1855 and 1858 to 1864).  Part of its ground floor has a small parish museum. It is linked to the church sacristy by a bridge-like corridor.
Church of St. Nicholas of Tolentine: Poblacion, 6305 Dimiao. Tel: (038) 536-1009. Feast of St. Nicholas of Tolentine: September 10.
How to Get There: Dimiao is located 44.7 kms. (a 1-hour drive) east of Tagbilaran City.
Bohol Tourism Office: Governor's Mansion Compound, C.P.G. Ave. North, Tagbilaran City, 6300 Bohol.  Tel: +63 38 501-9186.  E-mail: inquire@boholtourismph.com.
Panglao Bluewater Resort: Bluewater Rd., Sitio Daurong, Brgy. Danao, Panglao, 6340 Bohol.  Tel: (038) 416-0702 and (038) 416-0695 to 96. Fax: (038) 416-0697.  Email: panglao@bluewater.com.ph. Website: www.bluewaterpanglao.com.ph.  Manila sales office: Rm. 704, Cityland Herrera Tower, Rufino cor. Valera Sts., Salcedo Village, 1227 Makati City, Metro Manila.  Tel: (632) 817-5751 and (632) 887-1348.  Fax: (632) 893-5391.