From the Yap-Sandiego Ancestral House, Rhea, Rona, Javelyn and I walked the short 140 m., via Eduardo Aboitiz St., to the Casa Gorordo Museum.  Upon entry, we first registered ourselves at the museum office and paid the PhP120 per pax admission fee.
Check out "Yap-Sandiego Ancestral House"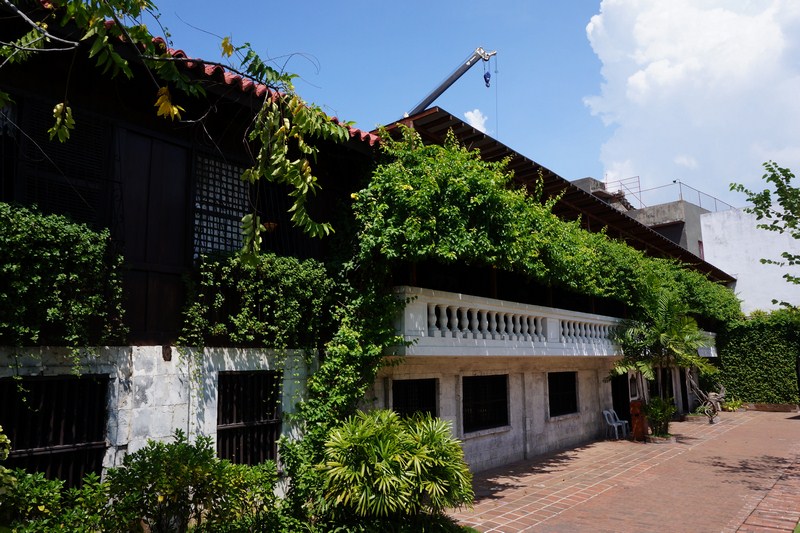 As a guided tour was still ongoing, we waited for our turn at a patio that now serves as an airconditioned waiting room for visitors, its furniture partially made of bamboo.
Near the patio is the zaguan, the old basement storage area for crops and livestock.  After a few minutes our guide arrived in the person of museum curator Florencio Moreno II who explained the rooms and the artifacts.
Located at the middle of the historic Parian District, this historic, two-storey, former bahay na bato (a typical architectural type during the Spanish colonial period) was built in the 1850s and was originally owned by Alejandro Reynes y Rosales.  In 1863, it was bought by Juan Isidro Gorordo, a Spanish merchant.
According to historian Resil Mojares (author of the book "Casa Gorordo in Cebu: Urban Residence in a Philippine Province 1860-1920"), four generations of the Gorordo family, from 1863 to 1979, have lived in this house, including Bishop Juan Perfecto Gorordo y Garces (1862 to 1934), the first Filipino bishop of Cebu.
In 1980, it was acquired by the Ramon Aboitiz Foundation, Inc. (RAFI). Between 1980 and 1981, after it was acquired by RAFI, the house underwent extensive renovation and restoration works and, on December 15, 1983, was officially opened to the public as a museum. On September 24, 1991, Casa Gorordo Museum was designated as a National Historical Landmark by the National Historical Institute.
In 2005, to replace aging elements, a major second renovation was undertaken. In late 2013, it was again closed to give way to an enhancement project and reopened to the public on November 2016 with an upgrade aimed at elevating visitors' experience by incorporating more interactive presentations and digital technology.
The museum is maintained by RAFI through its Culture and Heritage Unit. The foundation aims to promote, through the museum, the importance of history and culture to the kids and millennials. RAFI also continued the house traditions of the Gorordo family, which include the Sinug sa Casa Gorordo (the original Sinulog steps done a day after the festival's grand parade), the Kuwaresma procession, Pista ni San Juan and the display of the Gorordo Belen.
The house, surviving two turbulent revolutionary conflicts and the Second World War, showcases mid-19th century and early 20th century Philippine culture and lifestyle.  It has an enriched artifact collection reflecting the lifestyle of Cebuanos from the late 1800s to the pre-World War II years.
It has a courtyard, a terra-cotta tile roof with Chinese upturned eaves, bayong (mahogany) wood sidings, ground floor with coral stone blocks (glued with egg whites), tugas (molave) and narra hardwood flooring and capiz windows.
The stonewalled ground floor displays contemporary paintings by Cebuano artists; miniature furniture sets; a 1939 Schwinn Mead Ranger bicycle; an 1860s tankard, an 1880s flat iron (plantsa); a corn mill (gilingan ng mais); models of vehicles used in Cebu; ceramics; pottery; eighteenth and nineteenth century agricultural implements (plow, tools, etc.) and other household objects such as a duwang (a large hardwood basin), four big palo-palo, clothes wringers and dryers, and a wooden for ironing clothes.
Now an interactive museum mixing a little bit of old and new, Moreno also showed us a 3D virtual map (the only one in the city that has this map), an interactive exhibit that showcases the history of Cebu City from 1614 to 1945.
At the mini-theater which can accommodate 30 to 40 people, we were shown a short, 10-min. film that traces the development of the payag or bahay kubo (native house) to become the balay nga tisa (house with clay tiled roof) such as Casa Gorordo. There's also a diorama of Cebu's social life with prominent families, originally from or linked to Cebu's Parian district, listed.
After a short flight of four stone steps which ends in a descanso (landing), we went up a higher flight of wooden stairs with banisters that lead us to a caida (anteroom) and the sala (living room) fronting the street and flanked by two bedrooms.
Intricate wood carvings on the ceiling divide the house into function rooms. The sala has rattan sets and Vienna chairs, cabinets and tables.
The bedrooms have canopied, four-poster beds, made of narra or molave, with delicate carvings; rocking chair and baby crib.
The Ladies' bedroom has a crescent moon-shaped mirror said to bring good luck.
The library has old photographs of Cebu during the early American era, books (including faded copies of Rizal's novels) and an old globe with the former names of countries.
The office has nineteenth century period furniture.
The comedor (long dining hall) showcases gold and silver kubiertos (silverware), antique plates and tazas (cups).
The kitchen, with American colonial fixtures, also has eighteenth century water jars and cooking utensils.
There's also a chapel as Juan Gorordo, the first Filipino Bishop of Cebu, was one of the house occupants.
Prior to leaving the museum, Rona, Rhea and I engaged in some cosplay by having our "period photos" taken, at a photo studio (obviously a late addition), wearing period costumes.
Other interesting items include a giant grandfather clock, a Victor gramophone and an 1890 Singer Sewing machine.
The second floor also has an unusual trellised azotea (patio), overlooking the garden (where there's a deep but not functioning well), with 80-year old flower vines (called the "Bridal Bouquet").
Recently, the patio has been the venue for book launchings and lectures.
Across the patio is a museum shop (which also underwent enhancement) that sells Casa Gorordo Museum-branded merchandise that cannot be bought from other stores.  From here, a stairs leads down to a ground floor coffee shop.
Casa Gorordo Museum: 35 Lopez Jaena St., Cebu City, Cebu. Open Tuesdays to Sundays, 9 AM to 12 noon and 2 to 6 PM.  Closed on Mondays and holidays. The museum offers different informal guided tour packages, ranging from P120 to P180. The P180 rate will include a tour guide, free use of tablets (to scan the QR codes affixed to the items on exhibit, which give more detailed information), free earphones, a booklet, a souvenir item, and a free drink at the museum cafe.  A 20% discount is given to senior citizens, students (13 to 18 years of age), and undergraduate college students. Tel: (032) 411-1767 (RAFI Culture and Heritage Unit) and (032) 418-7234 loc. 532.  E-mail: rafi.chu@rafi.org.ph. Facebook page: RAFI-Casa Gorordo Museum.