After breakfast at One Central Hotel, we still had time to kill before the 1 PM grand opening of the hotel, so I, together with lady media colleagues Maria Rona Beltran, Rhea G. Vitto-Tabora and Javelyn J. Ramos, decided to do some museum sightseeing.  Outside the hotel, we hailed a jeepney that took us to the Yap-Sandiego Ancestral House, part of the Casa Gorordo Museum Complex.
Check out "Casa Gorordo Museum"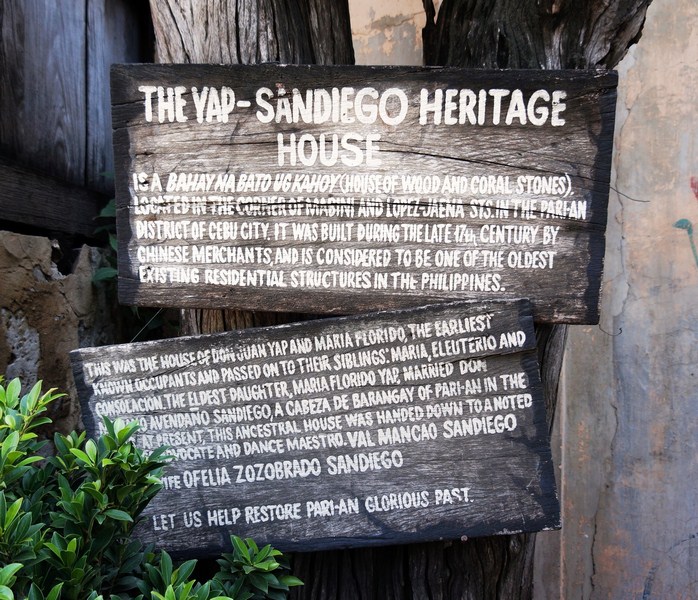 After paying the PhP50 admission fee to a lady receptionist clad in old Filipiniana dress and logging our names in the visitors' logbook, we were toured around the house by a well-versed guide.
The Spanish-Colonial era Yap-San Diego Ancestral House, in Cebu City's Parian District (founded in 1590 after the arrival of Chinese traders), is said to be the first Chinese house built outside of China.
Often referred to by the locals as the Balay nga Bato ug Kahoy ("House of Wood and Stones"), this ancestral house was built, sometime between 1675 and 1700, and is considered as one of the oldest existing residential structures in the country and a proof that the Parian district in Cebu City was a bustling barangay where houses are often designed with a second storey.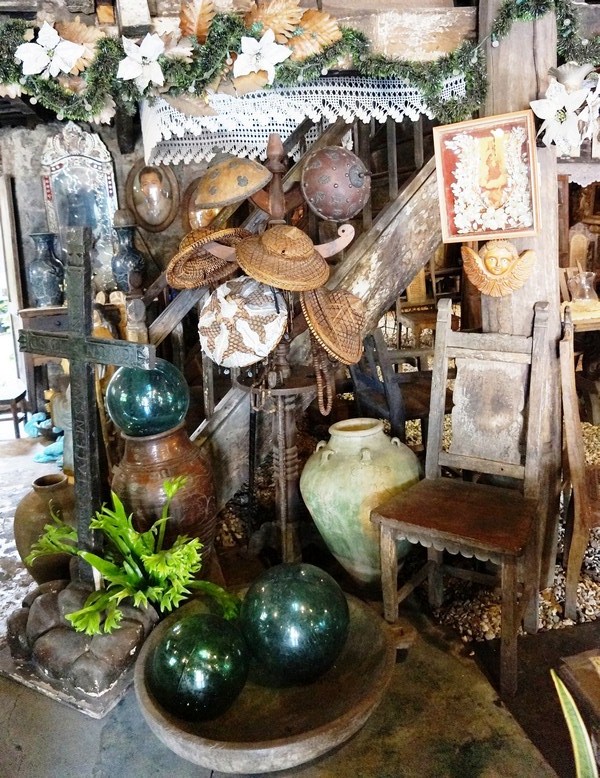 The house was originally owned by Don Juan Yap, a Chinese merchant, together with his wife, Doña Maria Florido.  They had three children, namely: Maria, Eleuterio and Consolacion.
In the 1880's, their eldest daughter, Maria Florido Yap, married Don Mariano Avendano San Diego from Obando, Bulacan, who was, at that time, the Parian's cabeza de barangay (district head). Since then, the structure had become a busy center of activity in Parian.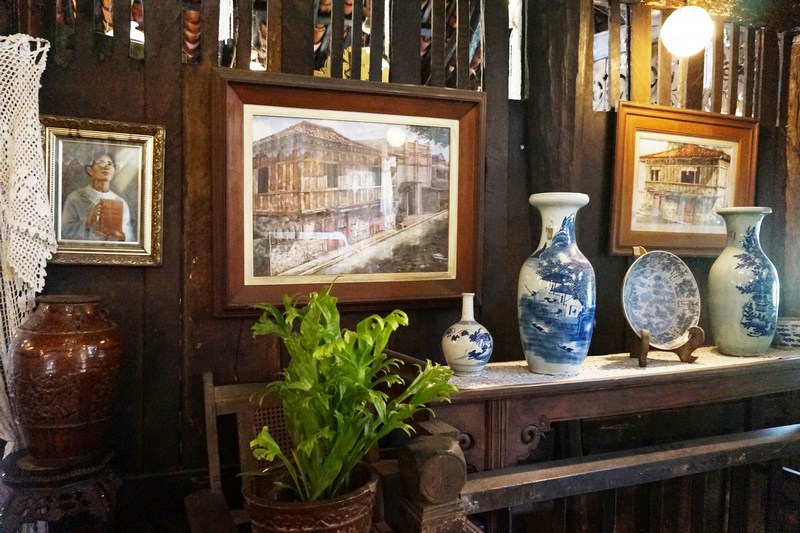 In 2008, the house was handed down to the aforementioned Val Mancao San Diego, Doña Maria's 10th generation great great grandson, and his wife Ofelia Zozobrado-San Diego.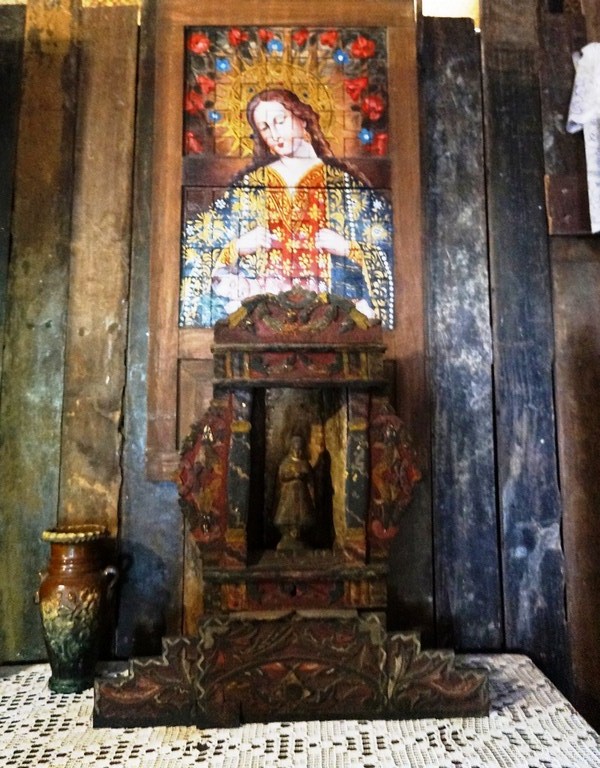 An art collector, one of Cebu's famous choreographers and a heritage icon, Val believe that this ancestral house was part of Cebu's history and heritage so he carefully restored his ancestor's home and turned it into a private museum.
And though there have been offers to buy the house from him, he still continues to ignore such proposals and vows never to sell this historical house in his lifetime, no matter what the offer is.
Though Val and his family don't live in this house, every so often, during weekends, they still come over to stay at the house. This ancestral house was been featured in the book Chinese Houses of Southeast Asia of noted Chinese cultural historian Ronald G. Knapp (2010, Tuttle Publishing)
This 2-storey house, its design combining Spanish and Chinese architectural influences, has a ground floor built with coral stone, glued with egg whites, and a second floor built with tugas (molave) and balayong wood. The curving roof was made of tisa (red terra cotta clay tiles) from China, each piece weighing 1 kilogram.
Outside is a beautiful garden (a boat from the 1800s is currently being used as a flower bed) and a still functional old well (its water is only used for the plants).
The ground floor was unpaved (since it was only used as a warehouse or kamalig) but, before we ascended the second floor's creaking staircase, we had to wear shoe cover booties to protect the hardwood floor upstairs from scratches.
The house was filled with well-crafted life-sized statues, religious icons and images of santos, especially of the Sto. Niño (including one sitting on a rocking chair) and angels, in every size and material imaginable (the family was known to be deeply religious).
There's also an impressive array of new contemporary and ancient artworks; priceless, century-old antique pieces; a wooden harp; fine china and cutlery; antique décor; clay jars for storing water and Cebuano-made native period furniture made of balayong, tugas and narra.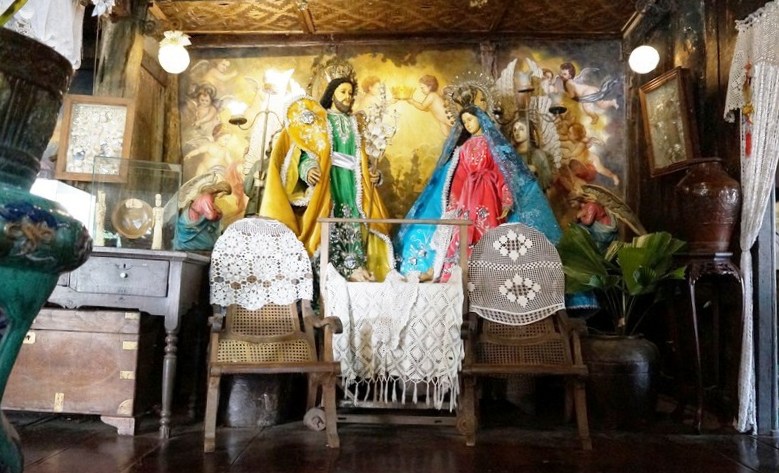 Most the old items which were preserved here came from Carcar, Cebu. The front door has a knocker that came from a Chinese temple.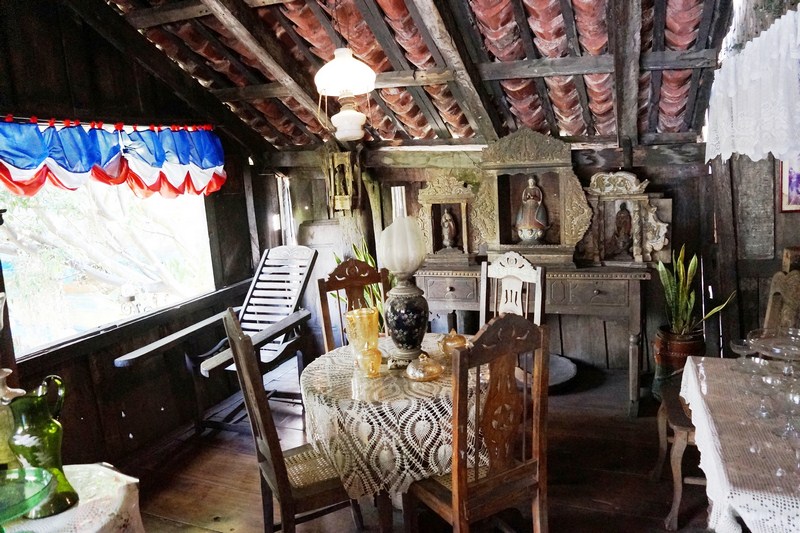 The bedroom had a four-poster bed and a wooden baby crib. Also at the second floor is a banggerahan with its rack for drinking glasses and cups. Having survived natural calamities and earthquakes, the house has retained over 90% of the original structure.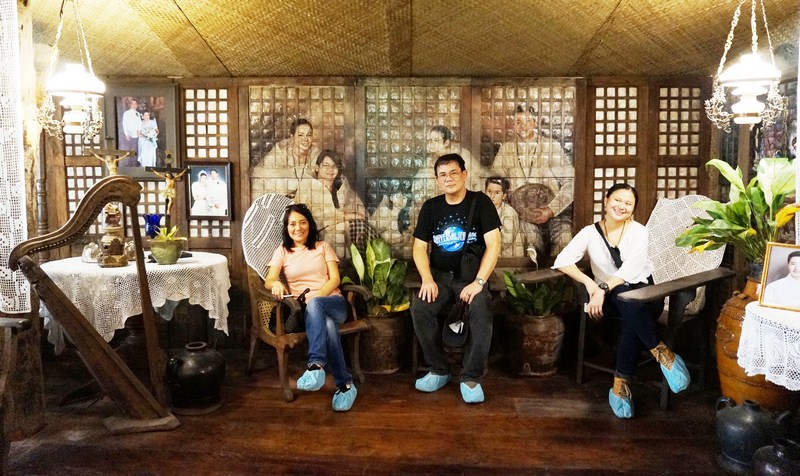 Yap Sandiego Ancestral House: 155-Lopez Jaena corner Mabini St., 6000 Parian District, Cebu City, Cebu. Open daily, 9 AM – 7 PM. Admission: PhP50 per person.  Tel: (032) 514-3002, 514-3003 or 253-5568. Facebook: www.facebook.com/Yap-Sandiego-Ancestral-House-214835631903226/
How to Get There: From Marina Mall, ride a multicab or jeepney that carries a 'highway' signage and tell the driver to drop you off at Maguikay. From there, ride any Mandaue jeepney (with a "Catedral" or "Colon" signage) that will take you to Cebu Metropolitan Cathedral or Colon Street. Upon reaching these landmarks, The Yap-San Diego Ancestral House is just a walk away. At SM Cebu or near Radisson Blu Hotel, you can ride a jeep with 01K code. Go down at Shamrock and take a short walk to the right where you'll find the Parian Plaza and its Heritage of Cebu Monument. The house is just a few steps away from it.
Check out "Heritage of Cebu Monument"