Our final stop on our Appsline Travel-sponsored Lucena City/Pagbilao tour was the Silangang Nayon Park and Restaurant where we were to have dinner.  From Pagbilao Wharf, we followed Lurhen as we drove to this popular destination and quiet retreat which is a 25-min. drive from Lucena City.  From the Maharlika Highway, we turned right and drove 6.5 kms. inland before reaching the resort.  It was just about dusk when we arrived and we were welcomed by general  manager Ms. Mary Ann Padilla who asked us to proceed to its floating restaurant.
We descended down a series of paved walkways with dining cottages, nestled along the edge of cliffs, on either side.  At the base of the cliff, we next had  to cross a long footbridge with a sturdy  foundation of concrete stilts, passing two other dining cottages, before reaching the larger, boat-shaped restaurant at its end which overlooks Tayabas Bay, Pagbilao Grande Island and Patayan Island.
Ms. Padilla soon joined us at the table and we proceeded to interview her, at length, about the resort. The resort first opened in 2003 with just one seaside cottage. As the years went by it slowly grew into a cozy park with a  main restaurant (a very nice place to view the sunrise and feel the cool sea breeze while dining); bamboo dining cottages, function hall; a mini-zoo and a children's playground.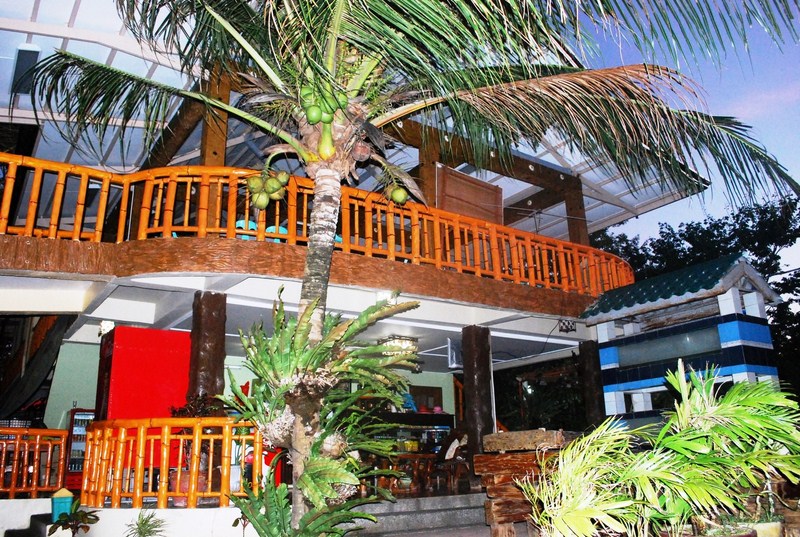 The resort also has a bed and breakfast, on top of a cliff and overlooking the sea, with affordable room rates: PhP2,500 (good for 2-4 persons with free breakfast for 2), Php4,000 ( good for 8 persons with free breakfast for 4) and PhP5,000 (good for 8-10 persons).  Each spacious, clean airconditioned cottage has a TV and a private bath with hot and cold shower.  They also offer boat trips or kayaking to Patayan Island Puting Buhangin Beach and Kwebang Lampas.
The place also had its share of misfortunes, being almost reduced to rubble by the wrath of typhoons, notably Milenyo. From the ruins, it slowly rebuilt, replacing the bamboo and thatch main restaurant and the bamboo bridge with sturdy concrete.  It also closed down a not so successful second branch at SM City Lucena.  Even with the same cooks preparing the same food at both branches, the SM branch simply could never relicate the ambiance of the original.
Even as we were interviewing her, our cooked food slowly arrived, delivered to the restaurant from the main kitchen/grilling area on the mainland via a helicopter-shaped dumbwaiter running along a steel cable, truly an attraction by itself. The restaurant serves very affordable and great tasting Filipino and Chinese seafood dishes and we got to sample a number of their signature dishes.
First up was the filling seafood cream soup (PhP340 for medium and PhP500 for large) followed by the green mango encelada, beef with broccoli, calamares and crab szechuan (PhP100/100 gms.). The ostrich with mushroom sauce (PhP415 for medium and PhP615 for large), its meat sourced all the way from Cagayan de Oro in Mindanao, was really tender and tasted like beef.  The piece de resistance was the grilled oysters .  These oysters are first steamed, then grilled and flavored with garlic and butter.  For dessert, we had the not so sweet but still great tasting buchi plus brewed coffee.
It was now late in the evening when we finished dinner and, as we had a long 3.5-hour drive back to Manila, we said our thanks and goodbye to our gracious host Mary Ann as well as Ms. Lurhen.  With me at the wheel of the car, traffic was almost non-existent but we were sometimes traveling at a snail's pace because of slow-moving trucks.  We arrived in Manila past midnight.
Silangang Nayon Park and Restaurant: Brgy. Bantigue, Pagbilao 4302, Quezon. Tel: (042) 716-0077 and (042) 622-2173. Mobile no.: (0922) 886-7677, (0920) 813-2324 and (0919) 442-0042. Contact Person: Ms. Mary Ann Padilla.  Email:  silangang_nayon@yahoo.com.ph. 
Appsline Travel Services and Consultancy: Phase 2, Krisanta Village, Brgy. Bukal, Maharlika Village, Pagbilao, Quezon.  Tel: (042) 716-0067.  Mobile number: (0922) 633-0363 (Ms. Lurhen T. Cortes). E-mail: yvette_24@yahoo.com and appsline0305@gmail.com.